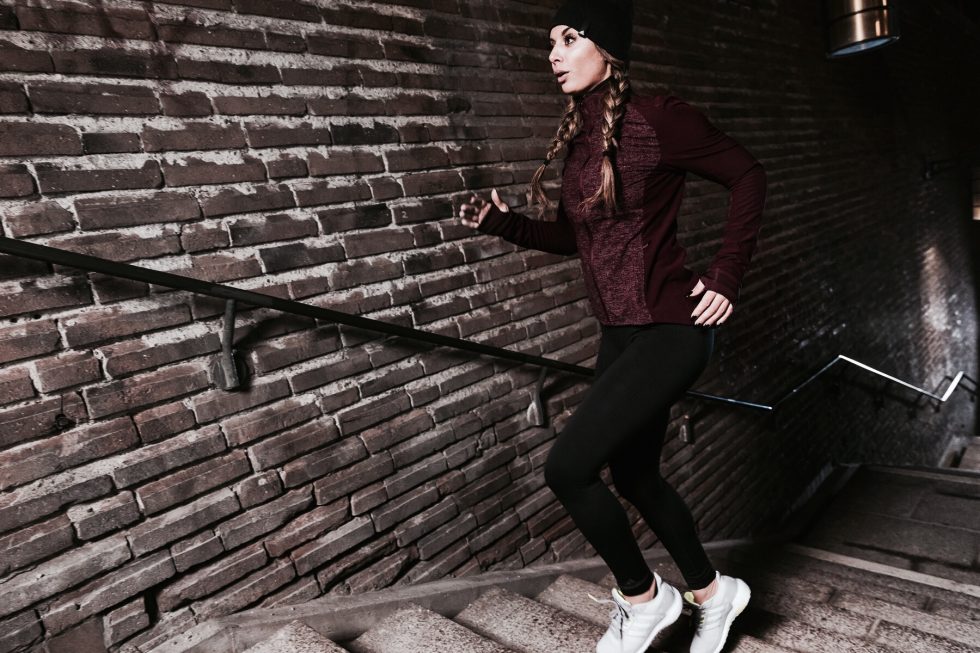 I'm a huge fan of intervals and stair sprints is a great way for beginners to start running. 
Under 2016 kom jag verkligen igång med min löpning med hjälp av mitt samarbete med adidas och vårt community Adidas Runners. Under hösten började jag även fokusera lite extra på långa distanser och mer strategiskt på intervaller för att verkligen förbättra min kondition. Det är en så häftig och oslagbar känsla när man börjar känna hur konditionen förbättras. Vet inte om ni upplever det men ibland kan det verkligen vara extremt tungt och nästan göra ont att springa.
Nu när jag kontrollerat kan springa en distans på ett visst tempo känner jag mig verkligen fit. Som ni vet älskar jag att vara aktiv på många sätt… men det är något väldigt befriande att kunna springa och känna en viss lätthet i kroppen. Älskar det!
Jag tror verkligen att det finns en viss typ av löpning för alla. Att springa en halvmara är inte för alla, men löpning kan vara så mycket mer än att springa långa sträckor. Så det gäller att testa sig fram och hitta den löpning som passar en själv bäst. Jag älskar intervaller och pressar mig gärna där. Utmaningen för mig är längre distanser som jag  hela tiden jobbar på.
Tips: Om man är ovan löpare men verkligen vill komma igång tycker jag trappintervaller är en grym början. Det känns sällan mentalt lika jobbigt som flacka intervaller eller att ge sig ut att springa 5 km. Personligen tycker jag intervaller generellt är en bra start för att bygga upp en grund-kondition som du sedan kan bygga vidare på. Vår coach Lisa i Adidas Runners kör ofta riktigt roliga och utmanade pass i trappor som sällan ens känns som ett löppass. Så det finns många roliga och v arirande sätt att bygga upp sin löpträning på som inte bara innefattar långa distanser.
Happy Running!