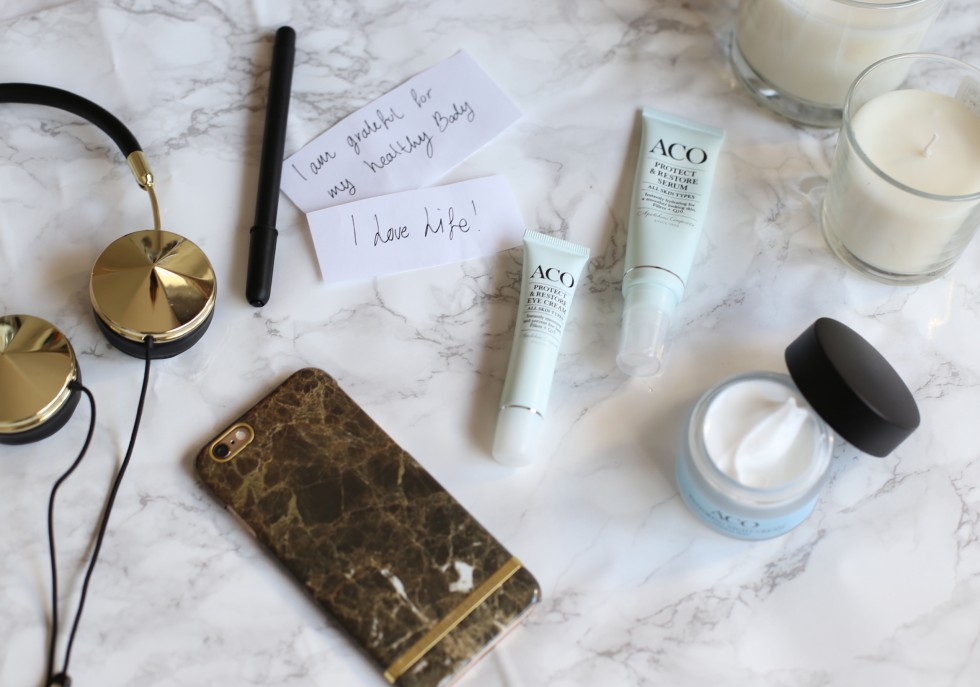 Some of the ACO skincare products I've been using lately.
Boosta ditt liv! I mitt tidiagre inlägg i samarbete med ACO pratade jag om att hälsa för mig handlar om att göra saker som får mig att må bra. Det finns så många sätt vi kan boosta oss själva för att må topp. Mycket handlar ju om att ta hand om och rå om sig själv. Att regelbundet vara aktiv, äta sunt, unna mig egentid, och använda positiva affirmationer är saker jag gör för att boosta mig själv. Något nytt för mig är att regelbundet ge min hy lite extra kärlek. Något jag varit dålig på men som jag märker får mig att känna mig så mycket fräschare.
Utöver ACOs 3-stegsrutinen har jag även testat på deras boostprodukter  från +25 serien som är en ögonkräm och ett serum. Boostprodukterna är förebyggande anti-age produkter som skyddar huden. Med allt som man utsätter huden för känns det bra att satsa på lite produker som är både skyddande men även förebyggande. Vem vill inte ha ung och fräsch hy?!
Nu har även ni chans att få testa på 3-stegsrutin för normal eller torr hy, samt boostprokukter, ögonkräm och serum. Hur bra! Kommentera och berätta om era mål den här hösten, hur väljer ni att boosta era liv? Jag kommer att dra 3 vinnare på måndag. Läs gärna om produkterna HÄR, så ni vet vad som kommer passa er bäst.
Lycka till fina!
(I samarbete med ACO)