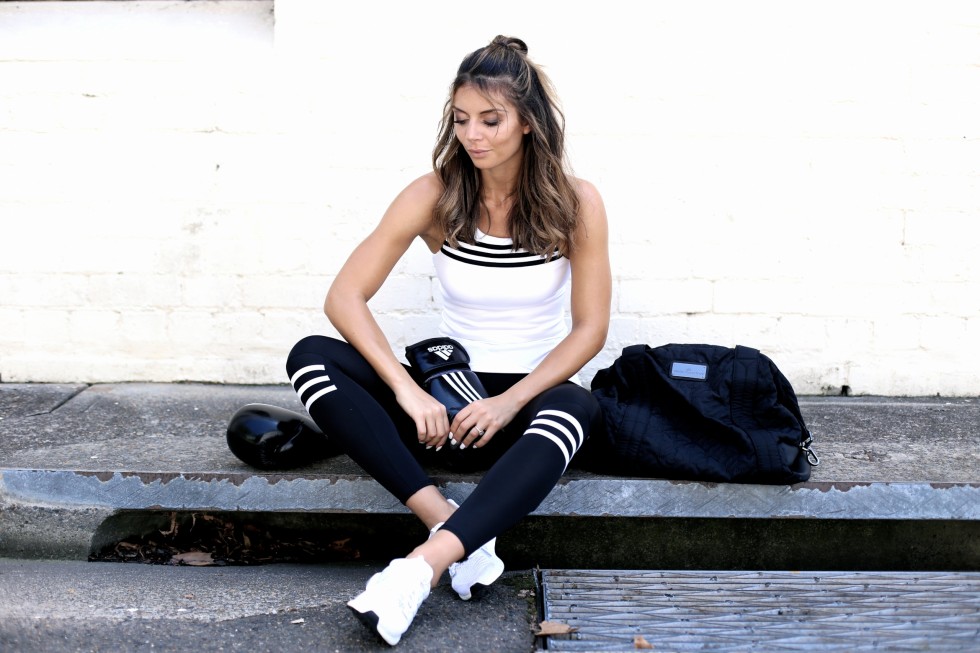 Wearing Adidas from top to toe. 
It's time to get Fashionablefit! I for sure need an extra push, so why not stay motivated by committing to three health goals and smash them together. Let's do this..,
Fashionablefit Goals: 
3 Fashionablefit workouts per week – I will post three workouts that we ALL need to complete each week. We'll do the same workouts for the period and track our progression. I will continuously tell you how to progress and intensify your workouts to avoid plateauing.
Start the day with a positive affirmation – Using positive affirmation's is in my opinion a powerful tool to create a positive life full of prosperity. Let's start the day with positivity and go to bed with gratitude.
Something green every damn day – Juice, smoothie, green shot, big veggie plate – Whenever I get into a habit of having a little too much of sweets I tell my self to up the greens. Once I eat more greens I tend to crave less sweet stuff and naturally I choose better foods to fuel my body with. Let's overdose on greens in feb!
Fashionablefit Workout 1: 
A1. Squat, 15 reps x 5 sets
A2. Bent over row, 15 reps x 5 sets
A3. Walking lunges, 15 reps x 5 sets
A4. Ball slams, 15 reps x 5 sets
A5. Plank jumping jax, 30 sec
A6. High knees on the spot, 30 sec
I personally will be doing "Workout 1" on Monday's, "Workout 2" on Wednesday's and "Workout 3" on Friday's. Inbetween I will most likely do cardio sessions and thai boxing. So if you choose to be more active than our three Fashionablefit workouts do whatever makes you happy! Yoga, dance, box, pilates etc.. If three Fashionablefit workouts is all you want to do, great!!
Stay tuned for Workout 2 and 3, meal tips as well as affirmations to keep a positive mindset. Please comment below if you have any questions… I will get back to you asap so you all can get started! <3 Don't forget to use the hashtag #fashionablefitfeb, wooohoo!